erlang c calculator for call centers & help desks - plus it's free
cc-Modeler Lite is the ultimate, easy-to-use Erlang C tool - it simplifies the analysis of call center staffing
requirements and service performance. It uses the industry-standard Erlang C traffic model, as
well as simulation.
cc-Modeler is powerful and quick, with many features not found in other Erlang C calculators. It is suitable for
any size of operation, from a help desk right through to large call centers with hundreds of agents.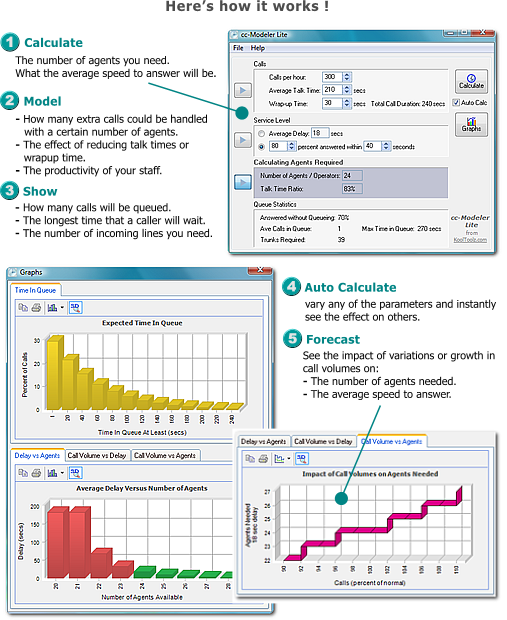 The key to understanding the performance of your operation is to focus on the telephone basics - call volumes, talk times, agent availability, delay before answer, abandonment rate and maximum time in queue.
Call center performance is typically measured across several key areas, including for example -
cc-Modeler's Erlang C calculations take the guesswork out of agent performance - the time taken to answer calls (ASA), the amount of time taken to resolve the callers requirement, how efficiently agents are utilized etc. cc-Modeler can accurately tell you all these this.
For example -
If there are protracted queuing delays in peak periods, callers hang up. They may try again later, but are almost certainly unhappy with your performance.

If it takes 3 minutes rather than 4 minutes to resolve the caller's requirement then that can convert into significant (and measurable) cost savings and/or service improvement.
The most common calculation is to use cc-Modeler to determine the number of agents required to handle the incoming call volumes, while maintaining a particular average speed to answer (ASA). However it does much more than that.
cc-Modeler has a series of graphs which show -

The proportion of callers who will wait in the ACD queue for particular length of time

The effect of the number of agents available on the average delay

How may agents would be needed for variations in call volume

cc-Modeler includes an 'auto calculate' mode which enables you to do 'what if' analysis - varying any of the parameters and instantly seeing the effect on the others.

cc-Modeler enables you to 'back calculate' as well, answering such scenarios as -

How many calls can a certain number of agents handle?

What is the available talk time for each call in order to meet a particular average delay before answer?

How many calls will be answered within a particular threshold target?
| | | | |
| --- | --- | --- | --- |
| | cc-Modeler Lite is provided as freeware to the call center and helpdesk industry. This means that you are welcome to download and use it without payment of any license fee, and to encourage others to use it as well. | | |
---
---